Keep Your Stimulus Payment Notice for Your 2020 Taxes
In mid-April, Economic Impact Payments, also known as Stimulus Payments, began hitting bank accounts of taxpayers across the U.S. If you were an eligible recipient of a stimulus check and received your payment, you should have also received Notice 1444 following the disbursement of your payment.
Notice 1444 detailed the amount of the payment, how the payment was made (where it was deposited or mailed), and how to report a payment that was not received by its intended recipient. The Notice was mailed to the last known mailing address of the taxpayer within 15 days of the payment being released. It may be important to keep Notice 1444 with all other records for 2020 tax filings when claiming additional tax credits. We have included an image below of Notice 1444 for your reference.
If you have any questions regarding your stimulus payment, please contact our team.
Notice 1444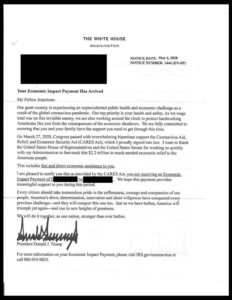 https://scheffelboyle.com/wp-content/uploads/2020/06/Notice-1444-IMAGE-3.png
788
940
brett@bonniburns.com
https://scheffelboyle.com/wp-content/uploads/2022/06/Transparent-Logo-5.png
brett@bonniburns.com
2020-06-24 07:30:23
2020-06-24 07:45:44
Keep Your Stimulus Payment Notice for Your 2020 Taxes