Main Street Lending Program Expansion
On June 8, the Federal Reserve released revised term sheets for its Main Street Lending Program (MSLP), ahead of the program becoming officially operationalized. The MSLP aims to increase the flow of credit to small and medium-sized businesses that were in good financial standing prior to the COVID-19 crisis.
Over the past few weeks, the Federal Reserve held several teleconference sessions to explain the MSLP and to seek feedback on previously released program details from lenders and borrowers. With input from these sessions and other sources, the Federal Reserve has further adjusted the financial terms and conditions of the various lending facilities to attract and meet the needs of a broader range of borrowers and lenders.
Notable changes to the MSLP include the following:
Lowering the minimum loan amount for certain facilities from $500,000 to $250,000;
Increasing the maximum loan size for all facilities;
Increasing the loan terms from four to five years;
Extending the repayment period for all loans by delaying principal payments for two years, rather than one; and
Raising the Federal Reserve's participation to 95% for all loans.
Key Eligibility Criteria and Loan Details
Detailed descriptions of all changes and modifications to each MSLP program are available via term sheets by the Federal Reserve: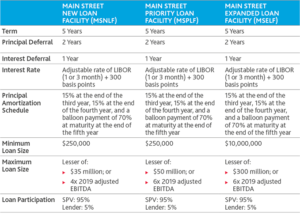 How to Apply for a Main Street Loan
A Main Street loan application can be requested at a federally insured lending institution, which will apply its own underwriting criteria. In addition, the Federal Reserve also released several application forms and agreements that must be completed in conjunction with the primary loan application. The documents include borrower certifications and covenants.
The Federal Reserve cautions that "eligible borrowers should contact an eligible lender for more information on whether the eligible lender plans to participate in the program and to request more information on the application process." The Federal Reserve expects the MSLP to open for lender registration soon, after which participating banks will begin offering loans.
Please refer to the Federal Reserve's Main Street website for the latest program information.
If you have questions over this program, please contact our team. We are always here to help.
https://scheffelboyle.com/wp-content/uploads/2020/06/MSLP-Blog-Image.png
788
940
brett@bonniburns.com
https://scheffelboyle.com/wp-content/uploads/2022/06/Transparent-Logo-5.png
brett@bonniburns.com
2020-06-16 14:53:00
2020-06-16 14:54:42
Main Street Lending Program Expansion