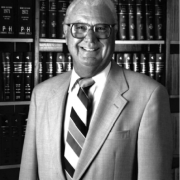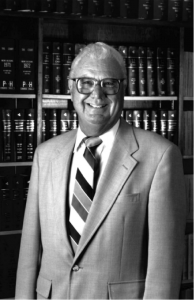 Richard "Dick" Scheffel, the founding Principal of the public accounting firm Scheffel & Co., passed away at his home in the early morning hours of Monday, February 27th. He was 94 years old at the time of his death.
Richard was a World War II United States Navy Veteran. After serving his country, he earned an accounting degree from St. Louis University. Richard worked in the accounting industry for a few years before opening the accounting office during 1954 in Alton, Illinois. With one receptionist, a desk, and a borrowed $1,000, Richard slowly grew the firm into a reputable, well-known operation in the Riverbend community.
Richard charged a mere $25 per client when he first started out and steadily grew the practice by word of mouth. He treated clients the way he would want to be treated, and he has instilled that character into the successors at the firm. His dedication to client satisfaction and community service are carried on throughout the team at the firm to this day.
Richard was admired throughout the region for his business acumen and focus on community development. Clients were friends. Coworkers were family. Richard retired as Managing Principal of Scheffel & Co. in 1981, but continued to be a valuable member of the Scheffel & Co. family up until his death.
In January of 2014, Scheffel & Co. merged with J.W. Boyle & Co. LTD to form Scheffel Boyle. The merger solidified the firm as the largest public accounting firm in Southwestern Illinois, and as one of the largest firms in the entire St. Louis region.
Richard continued to be a familiar face inside and outside the office since the merger. He was a generous supporter of the local community and an admired accounting professional within the industry. Richard's impact on our region will last far beyond his years through the numerous philanthropic efforts he was dedicated to supporting, as well as the firm of Scheffel Boyle which he helped to build.
Visitation will be held on Sunday, March 19th, from 2-5pm at the Evangelical United Church of Christ in Godfrey, Illinois. A funeral service will take place on Monday, March 20th at 1pm at the same location.
Richard is survived by 3 daughters Kaye (Larry) Anderson of Wildwood, Missouri, Donna (John) Null of Godfrey, Dawn Echols & Stephen Adler of Godfrey, 2 sons; Steve (Linda) Scheffel of Highlands Ranch, Colorado, Cliff (Gayle) Scheffel of Reno, Nevada, 11 grandchildren; Tim, Chris, Steve Anderson, Sophia, Gina (Curt) , Michael Scheffel, Nick (Monica) Fischer, Craig (Jen) Fischer, Kirstin Fischer, Nicole McCormick, Josh Vollmer, several great grandchildren, 1 brother; Paul Scheffel of Springfield, IL.
https://scheffelboyle.com/wp-content/uploads/2018/06/richard-scheffel.png
807
522
jordan@bonniburns.com
https://scheffelboyle.com/wp-content/uploads/2022/06/Transparent-Logo-5.png
jordan@bonniburns.com
2017-03-02 19:06:02
2019-09-20 08:09:00
Remembering Richard "Dick" Scheffel